We know from experience that using only the best quality of ingredients, combined with a lot of love and talent, can create the very best food. Enjoying a great and nourishing meal is a pleasure that we should all enjoy each day. Coming together with friends, colleagues, and family over a meal is medicine for our soul. We embrace the farm-to-table ideology, because we then know and trust the sources of our ingredients.
The focus of our wine list is sustainability. More than half our wines come from organic and Biodynamic vineyards from around the world. Each one has been carefully selected to pair with Mohamed's spiced creations; but also to demonstrate that great wine is coming from small, more obscure producers who offer an incredible value.
At Saha we partner with purveyors who incorporate sustainability in their business philosophy. We are proud to team with the following local businesses:
Verdical - You may have noticed the hydroponic towers in the back of Saha where we have been getting Sage and Thyme to take root and proliferate. Verdical is a Berkeley start-up which creates towers to bring the ability to grow herbs and lettuces right in your home or business.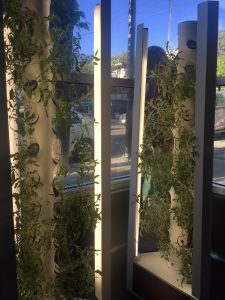 Ports Seafood - Since we opened the original Saha in 2004, Chef Mohamed chose Ports as our fish monger. It is important to us that we know from where the seafood we serve has come and its sustainability.
Del Monte Meat - We formed our relationship with Del Monte when we opened up in Berkeley, since the SF butcher we had worked with doesn't deliver over the bridge. We sought a meat provider who could deliver high-quality, locally sourced meats which came from sustainable suppliers. Because we are a Middle Eastern restaurant, we get asked quite often if our meats are halal. Instead of choosing halal meats, we opted for meats that have not been pumped with any hormones and came from animals that were fed organically and treated humanely.
Blue Egg Farm LLC - Recently we've partnered with Blue Egg Farm which is based locally in Orinda and delivers seasonal and organic produce directly from the farm to Saha.
Stanley Produce - Mohamed has been working with Stanley Produce Company which is based in San Francisco for the past 20 years. We continue to get seasonal and organic produce delivered on a regular basis from Stanley.
Wine Warehouse - When creating the beverage program at Saha, we wanted the same sustainability and integrity behind our selection of wine, beer and spirits. We've worked with Wine Warehouse for over 13 years; and they are our sole supplier for beer, spirits and some of our wines. We decided on a more select offering of spirits and opted to support the more local, organic when possible and non-machine made spirits. We appreciate Novato based Square OneOrganic Spirits and keep their regular, botanical and cucumber based vodkas on our shelf. Berkeley based pür•spirits is another local company we support and find creative ways to use their German distilled Elderflower & Blood Orange liqueurs and Zamaro in our delicious cocktails.
Chambers & Chambers Wine Merchants - Specialize in family owned and operated wineries from around the world with a lot of organic and biodynamic options
Alluvial Wines, Inc. - A small distributor, importer and broker for wines which must be at least sustainable in their methods.
Whole Spice - Napa Valley based company which has been a trusted source of spices for Saha for many years.
Good Stuff Distributor - A San Francisco wholesale distributor for specialty, natural organic foods.
Palo Alto Foods - A trusted source for natural, non-GMO, and gluten-free ingredients.